Toastmaster 1B14 Boomer Toaster
This model was in introduced in 1947, built to last, signed and serial numbered, and used continuously for ten or twenty or fifty years by American families. Think of all those GIs, home from the war, marrying their sweethearts and starting families. It was very popular as a wedding gift, and at $23.50, it wasn't cheap.

Toasters were marketed not only for breakfast, but also for entertaining -- hold a toast party to watch CBS Playhouse on TV.

But, when the Toast-R-Oven hit the market, most of these "old fashioned" Toastmasters were stored away in the attic or basement, still in working order. (And greasy and full of crumbs, I might add.)

The original advertising features the Superflex toast timer which compensates for a wide range of voltage variations automatically (a marketing ploy); the Bakelite "Easy-Lift" handles are large, smooth and curved to fit the finger tips, always cool to the touch; and, the Pop-open hinged door on the bottom makes for easy crumb removal and cleaning.

The heavy steel case is plated in highly polished chromium. The fittings are bakelite. The control knob allows a range from light to dark. The slots are 15/16th inches wide and measure 5 3/8 inches long and appx 5 inches deep.

This toaster is in very good condition, has been disassembled, cleaned, repaired if necessary, reassembled and tested. It is ready to do just one thing.... make toast.
Toastmaster 1B14 Boomer Toaster
Toastmaster Products Division
McGraw Electric Company, Elgin, Illinois U.S.A.
110-120 Volts 10.5 Amps. UL Operates on A.C. or D.C.

Shipping weight 9 Lbs.
SOLD
Purchase Information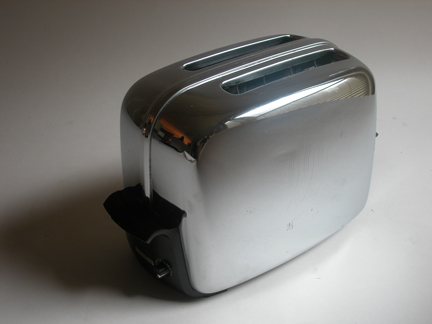 Marilyn in Saint Cloud, Minnesota bought this model toaster and wrote to say Thank you so much! I received my toaster yesterday and it's perfect! It looks new and it works beautifully. I'm thrilled to once again have real toast - evenly browned all the way to the edges - and faster, too! It's worth every penny. Thank you for such great service!
Kay in Soquel, California bought this model toaster and wrote to say I glory in my new to me toaster, which is exactly like the one I grew up with. It is the apotheosis of toasterhood in my opinion.
Albert and Carol in Plant City, Florida bought this model toaster and wrote to say We have received our Toastmaster 1B14 and could not be more impressed or pleased. Overall it is exactly what we were looking for aesthetically. Beyond that, it appears to be brand new and works flawlessly. I thank you for the extra effort on your part in assuring that the surface is polished and unmarred. Take care and good luck in helping households to have tasty and toasty mornings.
The Brennans in Lakebay, Washington bought this model toaster and wrote to say Just wanted to touch base with you and give you some feedback on our toaster. We purchased the 1B14 toaster this past winter. It is the best little appliance we own...Totally consistent and reliable...and it's BEAUTIFUL! Thanks so much for what you do!